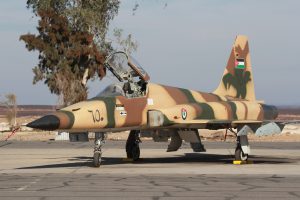 The Royal Jordanian Air Force Commander Major General Mansour Aljobour is leading an Air Force in change.
When asked for his vision for the coming ten years, the General is very clear: "First we start with the human factors. This is the big investment and development actually. Throughout the armed forces we are changing the skills and capabilities we have. This to make them ready for the future, for any plan and any operation."
Training College
The King Hussein College at Mafraq Air Base houses the flight training squadrons of the Air Force. "We changed the status of the flying school and it's now accredited by the Al Bayt university in Jordan. It's nowadays a college where students can get a degree in aviation. There are majors in for example air traffic controlling, air navigation and meteorology. This system started the first of December" General Aljobour explained.
Students, who will be flying fixed wing aircraft, will first join the 4 Squadron, which is equipped with 11 T67-M260 Fireflies and is responsible for the primary flight training. After 17 sorties a student should be able to fly solo. In total 89 sorties will be flown before the student can continue with the Advanced Flight training on the Casa 101CC with 11 Squadron. Here the student will fly over 100 hours. After graduation the Director of Training will assign the graduates to either the fixed wing transport squadrons for further operational training within the squadrons or the 17 Squadron for the lead-in fighter pilot training.
Since one year rotary students will go straight to 5 Squadron for basic and advanced rotary training. Their Hughes 500D and E helicopters and AS.350 Ecureuils were replaced in April by eight brand new Robinson R.44 II helicopters. These have a cockpit equipped with Garmin GXT327 and Aspin EFD1000H Primary Flight Display. A student will fly 130 hours in one year before graduation and will then be assigned to an operational helicopter squadron for further training.
The Flying Instructor School have acquired 8 second hand Slingsby T67-M260s from the UK in 2013. These are used for training of new instructor pilots. For the rotary instructor pilots six former 5 Squadron AS350s are used. A typical instructor course will take six months.
Not only Jordanian pilots are being trained at the King Hussein Air College, also pilots from other armed forces, like for example Kenya and Pakistan, come here for both basic training and Instructor Pilot training.
The Casa 101 has been in service since 1987 and will soon be replaced by the recently ordered Pilatus PC-21. An order for nice PC-9Ms was changed to 8 PC-21, and early 2017 two more were added to the order. They will be delivered mid 2017 and the first class will start early 2018. In 2016 also 10 Grob 120TPs were ordered as replacement for the ageing Slingsby T67-M260.
Fast Jet training
The F-5s of 17 Squadron, based at H5, Prince Hassan Air Base, have recently been replaced by 13 Hawk Mk63 received from the United Arab Emirates. "In the future if we need more Hawks we upgrade the avionics to make it a better lead-in training aircraft for the F-16. Most likely the extra ones are also coming from the UAE" said General Aljobour.
The first class with nine students on the Hawks started in June 2015. This lead-in training for the F-16 consists of 70 hrs flying during 65 missions. A student will start with general handling flights and will work up to basic fighter manoeuvring and next advanced fighter manoeuvring.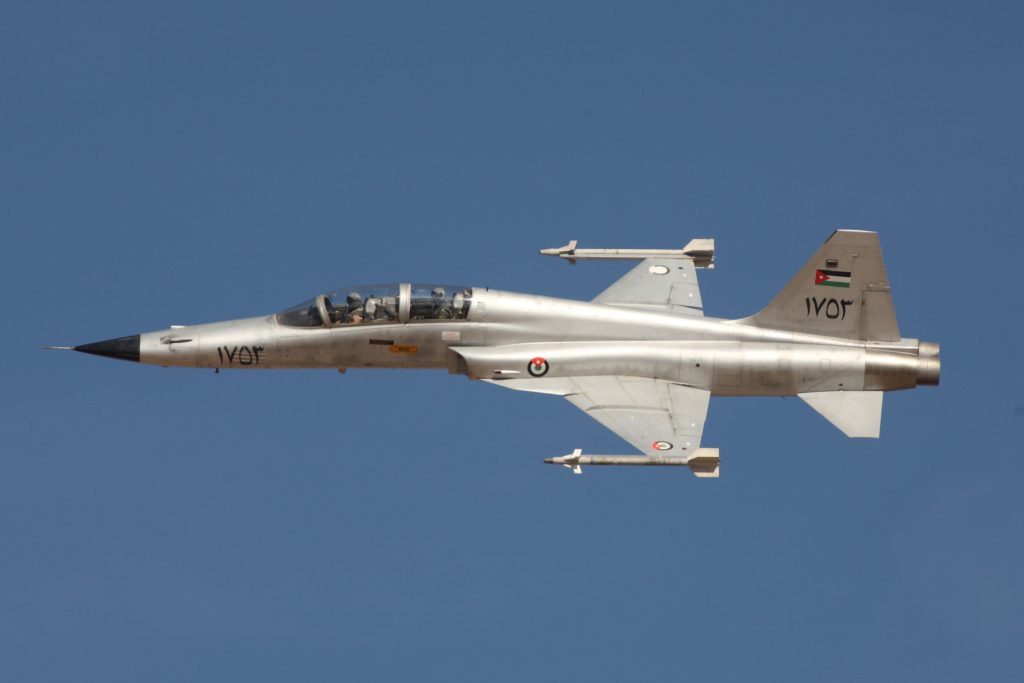 Frontline aircraft
Jordan currently has 43 F-16s divided over 1, 2 and 6 Squadrons, with 2 Squadron being the Operational Conversion Unit. All squadrons are based at Al Azraq air base located East of Amman. Another fifteen former Dutch F-16s with the latest MLU 6.5 version are expected to be delivered by the end of 2017. Some of the aircraft currently in the inventory will then be sold. Pakistan, one European and one South American country already have shown interest in buying these. The remainder of the fleet will also be updated to MLU 6.5 standard. For these the Boeing GBU-31 JDAM has been ordered and also 15 Lockheed Martin Sniper targeting pods will be delivered to enhance the fighting capabilities of the F-16.
The Royal Jordanian Air Force has 36 AH-1 Cobra attack helicopters on strength. General Aljobour: "We have a contract with SES in the United States to upgrade them with new avionics and weapons. They will be able to fire AGM-114R Hellfire II and other guided missiles in addition the M197 20mm gun. We expect to receive the first upgraded two soon." In 2015 Israel donated 16 AH-1S Cobras to Jordan to augment the border patrol forces.
The UH-1H from 8 Squadron and EC635T1 from 14 Squadron are being reequipped with UH-60 Blackhawks. For this initially a total of 16 UH-60s will be added to the inventory. The fleet may grow to up to 24 UH-60s.
"The Blackhawk is already in our inventory and we have good experience in flying and maintaining them. The Jordan border is long and the threat nowadays doesn't come from the surrounding countries themselves but from the terrorists. So to protect the border we have the concept since last year to deploy quick reaction forces, mainly SOF (Special Operation Forces). We use the Blackhawks to deploy them there while they are guarded by AH-1 Cobra attack helicopters." Says General Aljobour.
The ten remaining AS332M1 Super Pumas will remain in service for troop transport.
The five C-130E and H model transport aircraft will either see an upgrade or a replacement by former RAF C-130J aircraft. In addition, Jordan has two IL-76MF strategic transport aircraft which can carry up to 60 tons freight each.
Both CN235s were modified to gunship by ATK under contract of the King Abdullah II Design and Development Bureau and are now used by special forces. Jordan has also started a competition for companies to modify both Casa C295 aircraft into gunships.
Six AT-802 Block 1 Air Tractors were recently donated to Jordan by the UAE. These will be augmented by four newly build AT-802s. Close Air Support, ISR and border patrol will be their main tasks. All aircraft will eventually be upgraded to almost a Block 3 standard, called Archangel. The US company L3 will upgrade all aircraft cockpits and will replace the FLIR BRITE STAR 2 by a Wescam MX15. Also the Block 3 aircraft will be capable of carrying AGM-114K Hellfire II missiles plus GBU58 and GBU12 bombs. The, at 21 June 2015 re-established, 25 squadron will operate them as part of the new Prince Hussain Bin Abdullah II ISR Wing.
Unmanned Vehicles
General Aljobour:"The Air Force is seeking for a UAV platform that is both a sensor and shooter. In fact we did request for the MQ-1 Predator. But the Predator was only offered as a sensor, we are not interested in just that. We now have the Camcopters and the Italian Falco UAVs. We are also interested in the new Falco EVO. There is a project within the Italian Air Force with armed Falco EVOs. That will encourage us to buy them. We already procured the Chinese armed CH4B UAVs and they will be going onto service early 2016." The CH4B is also equipped with a satellite link.
Red Flag
For the first time the Royal Jordanian Air Force took part in the United States Air Force Red Flag exercise. Red Flag 15-4 saw the appearance of 5 F-16s."At the Red Flag you get skills you can only get from such an exercise. Therefore we decided to go with an invitation. We got the cargo transported by the US Air Force and we got the aerial refuelling assistance from the Israeli Air Force. We flew together with the Israeli to Red Flag. The pilots were extremely happy with the experience they gained. I'm keeping Red Flag on the agenda and hopefully we will be able to participate in 2016. If not, 2017 we will be there."
Current operations
The AC235 gunship is deployed to Saudi Arabia and is flying missions over Yemen. This has already proven successful.
Jordan is the only Arab country to fly over Iraq and Syria: "There are no restrictions regarding Iraq. Wherever the coalition operates, we operate. We mainly operate in Iraq and Deir ez zur in the North of Syria. That is where the strongpoint of DAES is. And that is our focus.
This is one of the most restrictive air campaigns ever. We loiter over the target area for a long time. We get air refuelling from our coalition members and partners."
The investment in the human factor has already proven itself. General Aljobour: "This is a small but efficient air force. That's why Saudi Arabia specifically requested for Jordanian F-16's to fly over Yemen. We have deployed four F-16's since late April. They are flying daily, mainly Close Air Support. We are a victim of our success but we are proud of what we are doing. We are ready to do our mission anywhere when ordered by our supreme Commander His Majesty."
Biography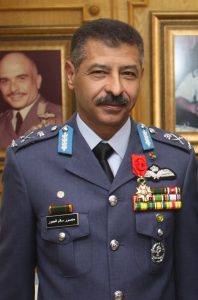 Major General Mansour Aljobour is the Royal Jordanian Air Force Commander, he has held this post since 11th of December 2013.
General Aljobour attended the Royal Jordanian Air Force Academy and graduated in 1977. He also attended the RAF Command and Staff College in 1992 and the United States Air Force War College in 2003.
He has previously served as the Commander of Prince Hassan Air Force Base, the Commander of the King Hussein Air College, the Director of Training and the Director of Operations. Prior to assuming his current position, General Aljobour was the Assistant to the Royal Jordanian Air Force Commander for Operations and Air Defence.
General Aljobour is a command pilot with more then 4.500 flying hours in a variety of aircraft.