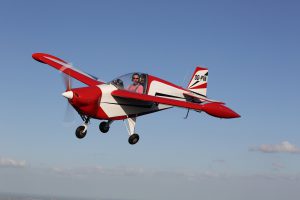 On 2 December 1957 the first flight of a Tipsy Nipper took place. During a recent air-to-air photoshoot performed by Tristar Aviation, Nipper OO-PVA showed up as a suprise. Tristar took the oppertunity to take airborne shots of this unique aircraft.
Tipsy T-66 Nipper 3 with callsign "OO-PVA" is build in 1961 and has build number A116. The Nipper is a single seat aerobatic aircraft for positive figures only. OO-PVA is equipped with tiptanks that gives it two hours extra flying on top of the normal two hour range. It has a Jabiru 2200CC 80hp engine that drives a Poncelet propeller.
Tristar Aviation is looking forward to do a dedicated photoshoot with you.
For more information about the Tipsy Nipper see: http://www.nipperaircraft.co.uk